SAGAFLOR AG supports its 800 member companies in their daily business with easydb .
"easydb is a very great and strong tool that meets all our requirements. The Programmfabrik team understands our needs and requirements and maintains a fair and binding interaction, as one would actually wish from all service providers." some art history institutes successfully work with it."

Stefan Schmidt, Project Manager Image Database SAGAFLOR AG
Summary
Keyfacts
In use since mid-2012
Users:75 internal users800 partner and franchisees
Assets / Images: Over 50,000
Departments:Marketing and sales
easydb Variant and modules
easydb.digitalasset
Authentication: LDAP / AD
PermaLinks
Import from CSV & XML
Activity Log
Other services
Workshop
Requirements specification
Customizing
Metadata import, migration
Custom programming
Installation
Training
Challenge: simple handling of complex applications
For almost 50 years, SAGAFLOR AG has been an association of independent garden and pet retail companies. For its members, it not only represents a strong purchasing power, it also supplies participants with image material for marketing activities, which is made available via the extranet. While an intuitive solution that helps them focus on their core business is important for end users, those responsible at SAGAFLOR faced the challenge of mapping extremely complex business processes with a flexible and powerful database system that fits into existing processes.
easydb.university Solution: easydb.digitalasset
Already in the preliminary research, easydb stood out as a possible solution. Exclusion criteria such as automatic calculation of various image sizes and file formats and an interface to Typo3 were met by easydb as standard. The additional functions were also quickly convincing: via PermaLinks, all images for the online store, the checkout monitor and the live animal labeling system are now provided from easydb . The benefits are obvious: end users optimize their internal processes, reduce incorrect labeling through visual product verification, and can provide their graphic designers with image material in the required resolution. Even shelf replenishment is planned from easydb !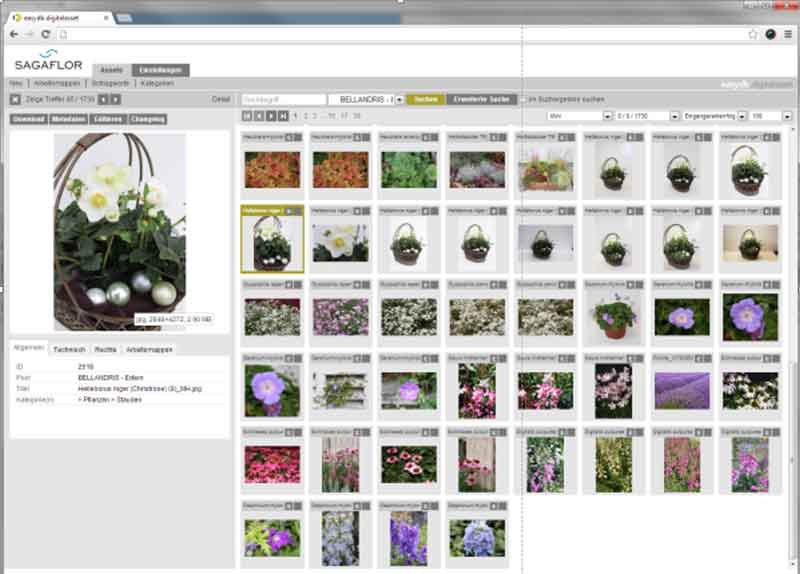 Frontend: Search & Find
Right: Search result of a search in pool "BELLANDRIS" in the representation "Mini
Left: Image and dataset in detail view
Business processes supported by PermaLinks:
Constant updating of product images in the online store
Interface to SAP
Product images in the checkout monitor as a control instance
Planning of the shelf superstructures with easydb
Significant time savings for end users
Why easydb?
Interface to Typo3
Interface to SAP
Automatic calculation of various image and file formats
Supply of the online store
Interface to the cash register monitor
Use of easydb content inlive animal labeling.
Completely web-based application
Case study as PDF
Making curated knowledge accessible for generations
Seit 15 Jahren sind wir mit easydb innovativer Pionier im Bereich web-basierter Medien-Repositorien. Zusammen mit der neusten Version fylr, dem Nachfolger von easydb 5, vertrauen Kunden in über 200 Installationen auf unsere Erfahrung und unser Know-how. Aufgrund des wissenschaftsnahen und individuellen Ansatzes, ist das System besonders in Bildungs- und Forschungseinrichtungen etabliert und bisher in über 50 Pressestellen unverzichtbar geworden.
Unser Expertenteam steht Ihnen für Ihre individuellen Anfragen zur Verfügung.
https://www.programmfabrik.de/wp-content/uploads/2013/04/easydb-programmfabrik-digital-asset-management-universitaet-der-kuenste.jpg
810
1440
Sebastian Klarmann
https://www.programmfabrik.de/wp-content/uploads/2023/07/programmfabrik-logo-2023-300x42.png
Sebastian Klarmann
2013-04-01 00:00:53
2022-02-15 14:14:02
SAGAFLOR AG