Technical University Wildau

easydb.digitalasset at the Wildau University of Applied Sciences
Summary
The university in Wildau has chosen easydb to manage its extensive image and media inventory since summer 2022. By using easydb , the university was able to achieve its initial goals:
Centralization of image drawing
Research and usability of image material in the entire inventory
Creation of legal certainty for image material
Facilitate the capture of images from external sources
Long-term preservation of images
Access for employees, internal use, public relations
CDS Gromke e.K. is the integration-oriented partner who ensures the conceptual design and implementation of this project as well as further support.
Documentary approach and backup
The university uses easydb to ensure continuous documentation of its image and media holdings. The quality and legal situation of the material is always checked during the review process. The material is then imported, recorded and made available to all users via the web-based front end. The focus here is on the following points:
Indexing of image material (assessment, recording according to indexing standards, cassation)
Preservation and provision of the analog stock according to minimum archival standards
Clarification of copyrights and rights of use
Instance for receiving offered archival materials from employees/SGs of the university.
Organization of data for long-term archiving
In the first phases of the project, the primary target group will be the employees of the University Communications, University Library and News & Media departments.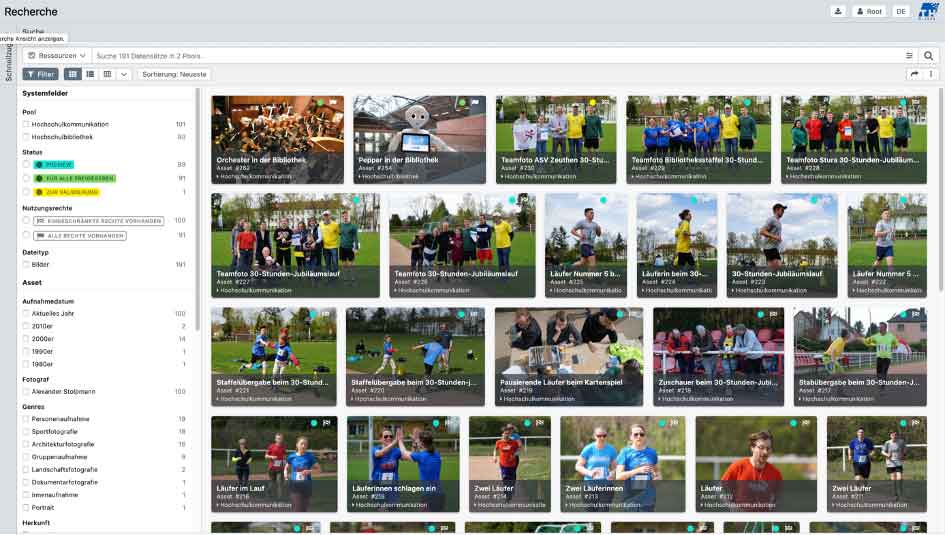 Standards and operation
The introduction of metadata standards is an important basis for easy data exchange and ultimately also ensures an exit strategy. Thus, not only the storage in IPTC and XMP is used, but the acquisition is also based on the use of the GND (Common Standard Data of the German National Library) directly in the easydb via the existing integration in this thesaurus data. Part of the concept was from the beginning of the operation on a server of the library network KOBV, so as to always have control over access, the operation itself and the data.
The staff of the TH Wildau will first develop the existing stock of about 81,000 images with a total size of almost 2.7 TB. This stock consists of images of events, campus buildings, industrial operations, and licensed images.
Outlook
Already in the first step of the project, the data model prepared the basis for the later connection to the interactive map of the campus. Later connections of the CMS are also being planned.
Making curated knowledge accessible for generations
Seit 15 Jahren sind wir mit easydb innovativer Pionier im Bereich web-basierter Medien-Repositorien. Zusammen mit der neusten Version fylr, dem Nachfolger von easydb 5, vertrauen Kunden in über 200 Installationen auf unsere Erfahrung und unser Know-how. Aufgrund des wissenschaftsnahen und individuellen Ansatzes, ist das System besonders in Bildungs- und Forschungseinrichtungen etabliert und bisher in über 50 Pressestellen unverzichtbar geworden.
Unser Expertenteam steht Ihnen für Ihre individuellen Anfragen zur Verfügung.
Photo above title: Synovali, Th-wildau-campus-127, cropped, CC BY-SA 4.0
https://www.programmfabrik.de/wp-content/uploads/2022/09/programmfabrik-easydb-dam-technische-hochschule-wildau-easydb.jpg
810
1440
Sebastian Klarmann
https://www.programmfabrik.de/wp-content/uploads/2023/07/programmfabrik-logo-2023-300x42.png
Sebastian Klarmann
2022-09-13 09:42:09
2022-09-16 21:35:44
Technische Hochschule Wildau