HilData - HILDEonline, Foundation University of Hildesheim
The beauty of HILDEonline is the interdisciplinary nature of educational studies!
"Classroom recordings promote the transfer of knowledge between subject didactics and with subject and educational sciences. "

Annette Strauch, M.A.. , Research Data Management/Research Data Management, Hildesheim University Library
Summary
Keyfacts
In use since 2017
Objects: 2,778
Pictures: 987 (jpeg)
videos: 781 (mp4)
easydb Modules
easydb Base, one instance
Multimedia module
LDAP module
Shibboleth module
Data management
Requirements specification
Remote installation
Keeping research and teaching data searchable
For research data management (FDM), the challenge is that data must be provided in a structured way and be available online - but, due to the sensitivity of the content, must be password-protected in closed data pools and made available only to a restricted group of researchers. At the same time, the FAIR criteria (Findable, Accessible, Interoperable, Reusable) should be met so that research data can, if possible, be findable, accessible, interoperable and reusable.
HilData and HILDEonline
Since 2017, Hildesheim University Library has been operating an easydb instance, which is used as a central service under the name HilData for research data management, collection management, and for classic image management in teaching.
The HilData system enables data to be uploaded and stored on university servers. There are advanced search functions for fast retrieval and a detailed rights management for access control and release. HilData is used to manage, describe and keyword data.
In the case archive HILDEonline, which HilData uses, lesson recordings and accompanying materials are made available. The aim of these video recordings of lessons is to link various subject didactic issues. These promote the transfer of knowledge between the subject didactics and with the subject and educational sciences.
The requirements for implementing the FAIR criteria are met by easydb , but are still in the concept phase for HilData at Hildesheim University Library. DOI allocation is also possible with easydb and will be implemented in the future.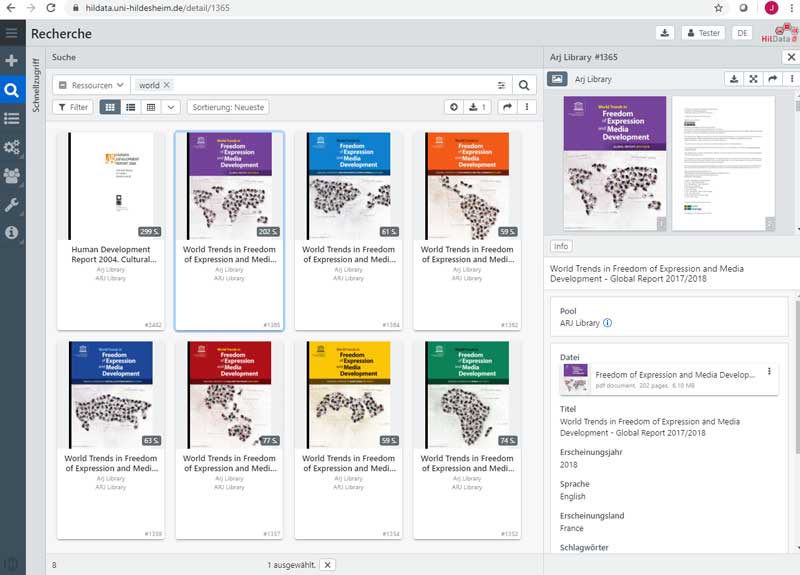 Search mask and search result:
Search in selected pools with rights management for access control and sharing
Preview and detail view on object with media and metadata
Management, linking and provision of digital data
Promotion of knowledge transfer
Management of data as a central service for individual departments
Fulfillment of different business unit requirements, for example different data structures through a flexible data model
Storage and search of copyrighted material in closed pools only for certain persons like project members
Areas of application
School, teaching and professional research
Science Administration
UB Publishing
SUH Press Office
Why easydb?
File research data (FDM)
Possibility of DOI assignment
Support for the FAIR principles
Case study as PDF
Making curated knowledge accessible for generations
Seit 15 Jahren sind wir mit easydb innovativer Pionier im Bereich web-basierter Medien-Repositorien. Zusammen mit der neusten Version fylr, dem Nachfolger von easydb 5, vertrauen Kunden in über 200 Installationen auf unsere Erfahrung und unser Know-how. Aufgrund des wissenschaftsnahen und individuellen Ansatzes, ist das System besonders in Bildungs- und Forschungseinrichtungen etabliert und bisher in über 50 Pressestellen unverzichtbar geworden.
Unser Expertenteam steht Ihnen für Ihre individuellen Anfragen zur Verfügung.
https://www.programmfabrik.de/wp-content/uploads/2020/06/easydb-programmfabrik-easydb-universitaet-hildesheim.jpg
810
1440
Sebastian Klarmann
https://www.programmfabrik.de/wp-content/uploads/2023/07/programmfabrik-logo-2023-300x42.png
Sebastian Klarmann
2020-06-01 00:00:21
2022-02-15 14:19:29
Universität Hildesheim