HeidICON
easydb.university at the Ruprecht-Karls-University Heidelberg
Information sheet about HeidICON
"After careful consideration and comparisons, easydb was also rated as the most suitable in the university library and it was decided to introduce it."

Dr. Maria Effinger and Dr. Thomas Wolf
Summary
Key facts
in use since 2005
Users: approx. 10,000
Images: 230,000 (as of mid-2012)
Faculties: Nine
30% of the inventory publicly available on the Internet, guest access: heidicon.ub.uni-heidelberg.de
Institutes and departments
University library
medicine
Communication and Marketing
East Asian Studies
archeology
Egyptology
East Asian studies
Art history
Other special research areas
Modules and functions
Creator
presentations
XML & CSV exporter
Multimedia & Office data
WSDL interface
Shibboleth
LDAP
initial situation
Heidelberg University is one of the oldest and most renowned universities in the world and, with 30,000 students, twelve faculties and three clusters of excellence, is a leader in almost all areas of teaching and research.
The impulse came from art history: a digital library should be introduced, but isolated solutions had to be avoided. All relevant institutes took part in the evaluation. Since the requirements of archaeology, Egyptology or medicine are very different, a flexible data model and front end was the decisive selection criterion.
HeidICON with easydb.university
In addition to flexibility, the normative data, a uniform vocabulary for image indexing, rights management and the creation of user groups were particularly crucial for the decision-making process. The choice fell on easydb.university. It has been constantly expanding since 2005: a wide variety of faculties and departments now manage more than 225,000 pieces of content (as of September 2012). The university library is in charge, where easydb is also hosted.
Rights management can be used to determine exactly which user has access to which content. Picture folders can be created for use in seminars, user groups can be created or sensitive research results can be managed in a protected manner in easydb.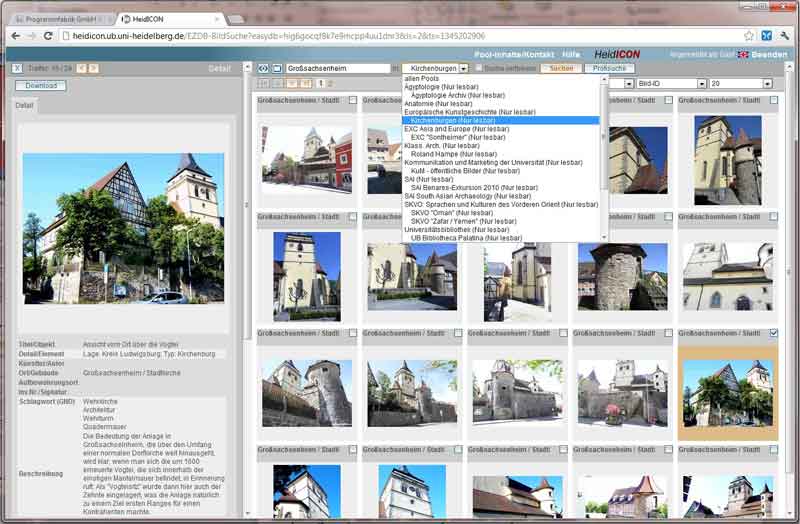 Screenshot: Search result and detailed view
Login as a guest
Search for "Großsachsenstein" in the "Kirchenburgen" pool
Marking and hit selection in the search results
Easy download via button in the detailed view
Advantages
A solution for all faculties
High flexibility in the data model and interface
Easy access for all students through the LDAP connection
Multilingual frontend: German and English
UTF-8 for Japanese, Chinese and Arabic characters
Case study as PDF
Making curated knowledge accessible for generations
With easydb we have been an innovative pioneer in the area of ​​web-based media repositories for 15 years. Together with the latest version fylr , the successor to easydb 5, customers rely on our experience and know-how in over 200 installations. Due to the science-oriented and individual approach, the system is particularly established in educational and research institutions and has so far become indispensable in over 50 press offices.
Our team of experts is available to answer your individual inquiries.
https://www.
programmfabrik
.de/wp-content/uploads/2012/06/easydb-
programmfabrik
digital-asset-management-uni-heidelberg.jpg
810
1440
Sebastian Klarmann
https://www.
programmfabrik
.de/wp-content/uploads/2023/07/
programmfabrik
-logo-2023-300x42.png
Sebastian Klarmann
2012-06-01 00:00:28
2022-02-15 14:21:35
University of Heidelberg