University of Applied Arts Vienna

Management of high-resolution images in all departments of an international art university
"Our image database is easy to use for students and
greatly reduces the workload for teachers when creating PowerPoint presentations. It makes it possible to build a research base for research!"

Katharina Jesberger, University of Applied Arts, Department of Art History
Summary
Key facts
In use since 2009
Users: Students and teachers from all departments
Images: approx. 14,000
easydb variant and modules
easydb.university
presentations
Powerpoint Exporter
Connector
Mass importer
CSV importer
LDAP
Additional Services
Creation of specifications
Remote installation
From the analogue to the digital library
The University of Applied Arts Vienna is one of the most renowned training centers for design courses in the world and looks back on a long tradition of prominent teachers and graduates, with names ranging from Oskar Kokoschka to Karl Lagerfeld. Disciplines such as art studies, art education or restoration rely on high-quality image material with a powerful zoom function that can be used both on the screen and in the lecture hall. The replacement of the analogue library took place gradually.
easydb meets high standards
In every department at an art college, the image is the focus of teaching and research. This makes it all the more important to provide students and teachers with high-resolution, comprehensively tagged images. The main focus of the image collection is on works of art from classical modernism to the present. Research partners are used for images from other eras. Initial experiences with an image composite proved to be insufficient because the resolution did not meet scientific requirements. Therefore, they decided on easydb.university, which many professors were already familiar with from other universities. Today, the Angewandte has joined forces with several international universities to form a network that jointly manages an inventory of almost one million image objects.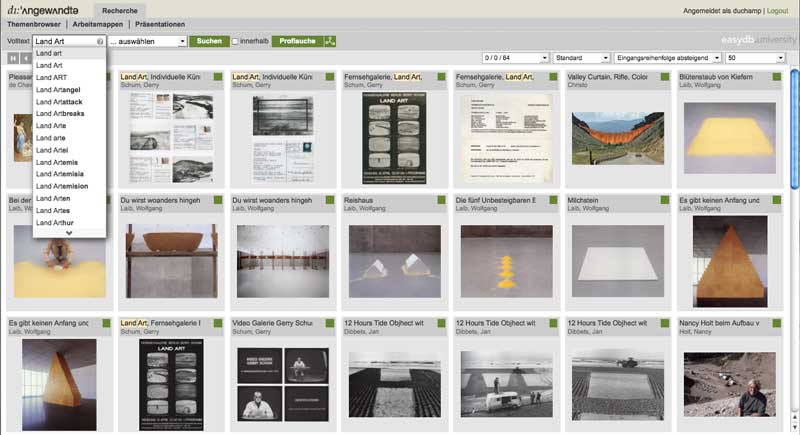 Research mask and search results:
Full-text search across all fields
Autocomplete search query
Example: Standard view with title, artist and preview
Advantages
Meeting scientific standards
easydb is the leading system in the German-speaking university landscape 
Networking with partner universities via the easydb module connector
Use in the lecture hall: Comparative presentations and export in PPT format
Short project duration
Why easydb?
Web based
Intuitive handling
High image quality and color fidelity
Zoomer for detailed views
Strong connector network
Standard system
Case study as PDF
Making curated knowledge accessible for generations
With easydb we have been an innovative pioneer in the area of ​​web-based media repositories for 15 years. Together with the latest version fylr , the successor to easydb 5, customers rely on our experience and know-how in over 200 installations. Due to the science-oriented and individual approach, the system is particularly established in educational and research institutions and has so far become indispensable in over 50 press offices.
Our team of experts is available to answer your individual inquiries.
https://www.
programmfabrik
.de/wp-content/uploads/2014/06/easydb-
programmfabrik
-digital-asset-management-universitaet-fuer-anwickele-kunst-wien.jpg
810
1440
Sebastian Klarmann
https://www.
programmfabrik
.de/wp-content/uploads/2023/07/
programmfabrik
-logo-2023-300x42.png
Sebastian Klarmann
2014-06-01 00:00:25
2022-02-15 14:20:35
University of Applied Arts Vienna